Wood, Carpet and Rug Flooring in Aspen, Snowmass and Carbondale, CO
At Creative Floors, we understand that your space's flooring is essential for expressing your unique style and achieving a welcoming environment. When you're deciding on new wood, carpet or rugs, you'll most likely consider how you'd like your spaces to feel. Our friendly team will help you find the right match in an easy and enjoyable process.
Whether it's the coziest rug for your family room or luxurious wood flooring for your business, we'll help you design and implement the flooring of your dreams. Learn more about the Creative Floors process and our lavish selection of diverse wood, carpet and rugs for your space.
A Rewarding Design and Installation Process
We want you to feel supported and inspired in your flooring design choices. For a seamless and enjoyable experience, our team works with you every step of the way, from start to finish. Our designers and installation team help you implement the ideal flooring for your space.
Our three-step process includes:
Design: We're passionate about every flooring project we work on, and we want to inspire you to choose the best flooring for your style. We'll help you visualize your space and go out of the box for a distinct look and comforting environment. We encourage you to visit our showroom to speak with our expert design professionals or work with us remotely.
Decide: Next, we'll help you narrow your flooring options that best match your style and budget preferences. We'll then provide you with a bid for approval.
Make it happen: The only thing left to do is install your new flooring! Creative Floors has an installation team to help make it happen. We'll assess your space in person and then schedule installation services at your convenience. We can also store your flooring materials for as long as you need.
At Creative Floors in the Vail Valley, Colorado, we provide an easy and fun experience to help you design, narrow down and install beautiful wood flooring, carpet and area rugs.
Luxurious and Unique Flooring Projects
When working with Creative Floors, expect to peruse several attractive flooring options for your budget and style needs. We've got styles sure to impress for your business or home.
We showcase area rugs, carpets and wood flooring for purchase online and in-store. You're bound to find something fantastic for your space. Our portfolio boasts an array of custom wood, carpet and rug projects for clients ranging from homeowners to businesses.
Durable and Charming Wood
Buy wood floors in Aspen, Snowmass and Carbondale, Colorado, online or in-store. We work with manufacturers to provide premium, durable wood floors for homeowners and businesses. We curate wood flooring projects using high-quality materials for a solid and lasting finish.
Our custom wood in Vail project showcases a custom oak finish for a beautiful walkway accent. The herringbone design separates three different types of wood to make the space stand out, and a natural oil finish makes for a lasting result.
Contemporary and refined meet warm and welcoming in the Remedy Bar in Vail project. Wide, cool-tone planks in a natural oil finish highlight a luxury feel, while the engineered construction makes the flooring durable for commercial and residential projects alike.
We created a warm and bright flooring contrast for our Lincoln Square in Singletree design for a family of four. We mixed warm tones of dark brown flooring with undertones of gray and gold to accent their white kitchen cabinets. We helped this family transform their remodeled open layout into a cozy and expressive home using oak and natural UV oil.
We love to use reclaimed wood in our projects for a textured and rustic environment. Our York reclaimed in Vail condo and Vail penthouse showcases authentic barn wood to create a warm and intimate western Colorado feel. All of our boards are kiln-dried, de-nailed and defected, and our reclaimed wood can combine with a variety of colors and finishes for your space.
Luxurious and Stylish Carpets
Shop carpet styles in Snowmass, Carbondale and Aspen for a warm and cozy home or office space. We provide multiple styles, colors and patterns to choose from to complement the room and provide optimal comfort for yourself and your guests.
Choose from textured, plush, loop or frieze patterns and materials ranging from nylon to wool and polyester. Our natural fibers and synthetic options will look great in your space, and our expert installers ensure properly installed carpeting for all projects.
Check out our classic and cozy stair carpet project in Arrowhead retreat. We feature the carpet Antelope in Soft Almond, combining traditional with Mountain Modern style for a fun and effortless look.
Plush and Contemporary Area Rugs
When you buy area rugs from Creative Floors for your space in Aspen, Carbondale or Aspen, you'll experience a fun process of narrowing down the best one for you. Our exclusive relationship with weavers and rug lines from all over the world ensures you find something exquisite for your home or commercial space.
Choose from handwoven, hand-knotted styles and wool or silk materials. We change up our designs to match current trends and colors. Our rugs also come in various sizes to fit your space and are durable and made to last. We have Moroccan and sisal rugs if your style is more bohemian and mountain modern rugs to complement a textured and rustic aesthetic. If you're hoping for a simple backdrop to your furniture, our neutral rugs are perfect for you.
This modern farmhouse in Eagle-Vail uses three area rugs for a fresh and bright respite. The custom rugs cover the family room, walkway and kitchen for comfort and flair. Our diamond-patterned walkway rug accents the house's entryway for an adventurous vibe.
Check out the fluffy custom rug we helped curate for this family's living room. Its plush look and feel makes the space more intimate and inviting for guests and provides a soft and comforting touch. Its colors complement the clean, modern furniture with a gold diamond-patterned accent.
Create a custom area rug or stair runner for your home or office and choose between a centerpiece or a small accent piece.
Visit the Creative Floors Showroom in Edwards for Premium Flooring
We invite you to our inspiring and thoughtfully crafted showroom in Edwards, Vail Valley, Colorado. Choose from hundreds of wood, rug or carpet samples to test before making a purchase. Our start to finish process to design and install your flooring makes us an excellent choice for your new project.
Creative Floors will help you design and decide on the right style for your home or commercial space. We even do repairs, refinishing and restretching for your needs and provide you with cleaning products and instructions to get the most durability out of your flooring.
For unique flooring in Aspen, Snowmass and Carbondale, visit our showroom or contact us today!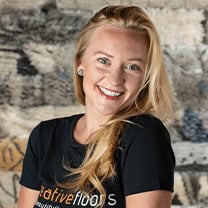 we are here to help
We know that finding what you want can be hard. Let us help you make all the right decisions the first time! Call to make an appointment today.
make an appointment